Teacher Testimonial
Wanted to thank you for the Opening the 10/40 window curriculum, Pashtun people. I purchased from you at the NCHE [North Carolina Home Educators] conference in May. We just finished the study in our homeschool co-op. I taught it to upper elementary and middle school students. It was well received. In addition, I had friends who were missionaries to Pakistan and China visit as well. Our kids liked measuring the miles to Afghanistan, learning about Bible translation, considering grammar and dialects, and of course playing Buzkashi. We used a headless flamingo stuffed animal and rode brooms.

Blessings to you and your team. Thank you for your efforts in reaching the world by reaching our kids. I look forward to watching the seeds grow.

~S. Frye, Raleigh, NC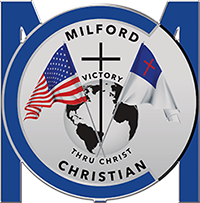 Milford Christian Academy is a ministry of First Baptist Church of Milford and dedicated to the glory of God. Milford Christian Academy is not an alternative to public education, nor are we simply a private school- we are a Christian school. The primary objective and purpose of Milford Christian Academy is to train Biblical mission – minded servants for all levels of ministry while providing an excellent education. The teachers of Milford Christian Academy realize the solemn responsibility before God in molding the life and character of each of their students in order to give a good foundation for each student's future.
Our desire is to teach our students to have a Biblical worldview of our communities, country, and world. One of the most important tools in teaching our students to have this Biblical worldview is through our missions curriculum. This curriculum has been developed by our firstBible International ministry and implemented within our elementary school Bible curriculum. This curriculum has taught our students that there is a great need for messengers to take the message, the Word of God, to those who do not have a copy of the Word of God. I highly recommend this curriculum as it has helped our students see the need to get the Word of God to those who do not have a copy of the Bible.
Parental Praise
Maggie and Drew have been looking forward to Language day at school for a while. They have taught me so much about each of their Bible-less people groups throughout this year. They pray all the time for these people groups to get Bibles in their language and for God to send missionaries to them. Maggie even told me today that she asked Jesus if He wants her to be one that goes to these people. She told me, "He hasn't answered me yet." God is working in my children's hearts, and I am so grateful for all the time and effort that has been invested in them through their MCA teachers and the firstBible staff.